What's new?
Information about products, new products, laboratory tests, news, in-depth articles.
Back to list
Call it water repellent, waterproof, non-hygroscopic, encapsulated ... but don't just simply call it sugar or cocoa!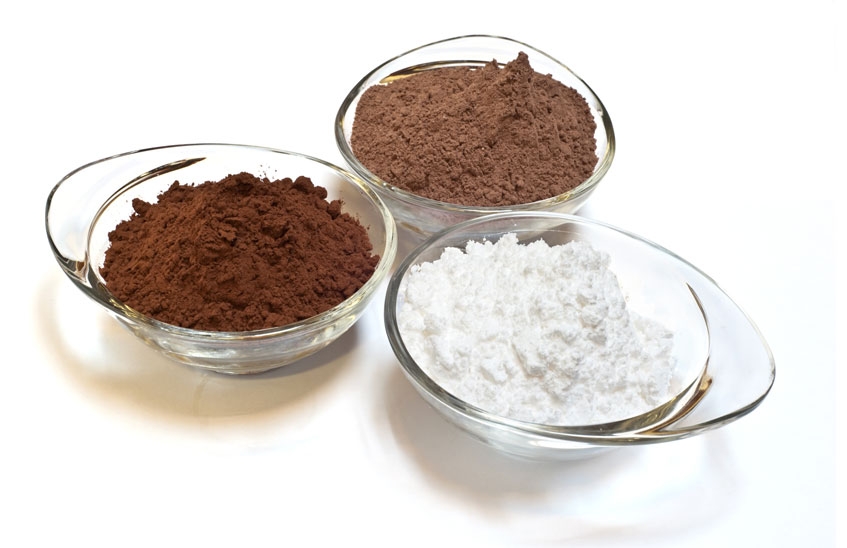 If the sugar and the cocoa do not melt and are resistant even to contact with water and fats, then this is because behind every single grain is technology: there is experience and a dedicated structure which are results of years of work, including mistakes.
It's true. We have devoted a lot of time and resources into developing these products in order to obtain the quality, the very best, that we can offer today. We wish to underline the value of our work and therefore the difference between normal powder and microencapsulated powder (so called cocoa or water repellent sugar, waterproof and/or non-hygroscopic).
In fact, initially the raw materials are cocoa powder or icing sugar that are processed in industrial plants where they are covered (or more correctly speaking "micro encapsulated") with a barrier of fat and with specific ingredients that have been requested by the customer according to his needs: this is why they are special products.
DOLCESOFT COCOA and DOLCESOFT BIANCO have been developed in order to resolve problems related to product durability, which either fresh or frozen, need to have a decorative dusting that remains dusty until consumption. Cakes, desserts, tiramisu, fresh or frozen, bakery for catering and events, where one wishes to keep the decoration intact and dusty until consumption, need a dusting not only with a simple sugar or cocoa but with encapsulated powders.
Here below is the list of our standard microencapsulated powders. All of these are encapsulated without hydrogenated fats and gluten, to which other characteristics are added according to different needs.
Happy reading!
Powdered Icing Sugar
DOLCESOFT BIANCO (free from hydrogenated fats and gluten)
DOLCESOFT BIANCO TOP / Palm-free (micro-coated with cocoa butter)
DOLCESOFT BIANCO 18° (micro-encapsulated sugar with high adhesion coefficient for frozen pastry)
Powdered Cocoa
DOLCESOFT CACAO (free from hydrogenated fats and gluten)
DOLCESOFT CACAO TOP / Palm-free (micro-coated with cocoa butter)